The party of a lifetime…
Or a lifetime of great parties?
Whether you're about to plan your very first event, or you need some new ideas to rejuvenate your own event planning business…this book is for you!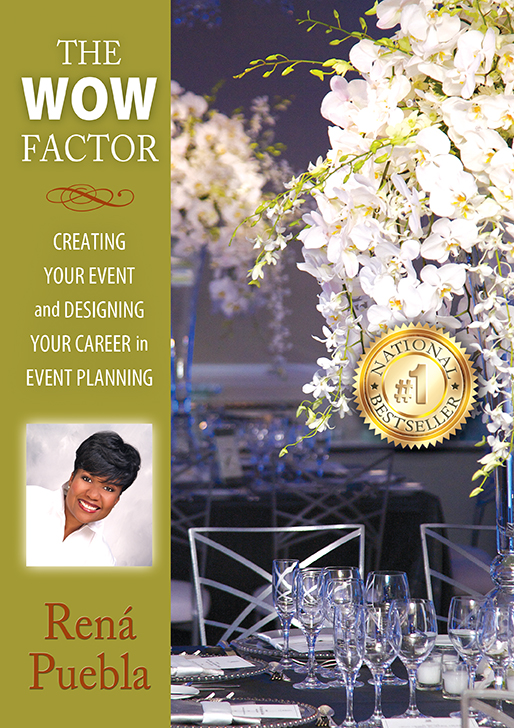 The Wow Factor will lend you Rená's thirty years of experience collected from planning some of the most memorable parties, weddings, and events in Hollywood, New York, and across the globe.  In June 2016, The Wow Factor became a national best seller, topping the "Service Industry" and "Weddings" book charts.
Rená's secrets to event planning success will help you:
Become an event planning pro
Learn how to create a successful event series
Determine if event planning is the right fit for you
Guide you through picking the right invitations, location, and decorations
Transform your event planning agenda, so that you effectively use every minute of your day leading up to the event
Set up the perfect event, so come the day of, you are prepared and ready for action
Rená's enthusiasm for creating perfect events and her deep knowledge will trans-form the way you look at event planning. With Rená by your side, guests will leave your next event saying, WOW.
*Note to the buyer: I provide a discount if purchasing the book through my website vs going through Amazon or another seller.
A personal note: A "Wow Factor" to me is being able to make a difference in the world. When you buy a copy of The Wow Factor, a percentage of the proceeds goes directly to one of the charities dear to my heart that I support. Spreading the love is truly a Wow Factor!
Read What People Are Saying About the Book
"It seems that each year you manage to top your previous memorable party. The Balboa Bay Club was an inspiration. The Epicurean fare, the entertainment and the "hands on" service you price are beyond reproach. As the Number One Soft Drink Company in the world our standards are of the highest quality in products and people. The events you facilitate are of the caliber that best exemplify those high standards. Your PROFESSIONALISM AND ATTENTION TO DETAIL, along with best value, allow us to share those special moments with our staff in the manner befitting our logo."
—J. Treves, Coca-Cola USA
---
"I cannot say enough great things about Coast Concierge Service and the wonderful evening they created for not only me and my husband but our friends and family as well. …The praises just keep coming. Even our wedding photographer said he never had seen anything so beautiful and grand. We cannot say enough of what an AMAZING JOB Rená and her staff did planning the reception of our dreams. Fairy tales do come true."
—Douglas and Shannon Daniels, Huntington Beach, CA
---
"For my wife's surprise birthday, Rená Puebla at Coast Concierge Service LEFT NO STONE UNTURNED. Simple words fail to describe the outcome, but spectacular, warm, wonderful, breathtaking and amazing seem appropriate."
—Tom Wilson, Wilson Advisors, Inc., Government Relations
---
"Rená, you have a talent for DREAMING BIG—and helping us create events that grab people's attention and distinguish us from our competition. Most impressive is your PERSONAL ATTENTION TO EVERY DETAIL. You amaze us with your energy and stamina. We appreciate that when we work with Coast Concierge Service, we are working with YOU, as you are always the first to arrive, the last to leave, and the hardest working person in between."
—J. Miller, Jackson Federal Bank
---
The Wow Factor can also be purchased on Amazon as a physical book or as a Kindle, on Barnes & Noble as a physical book, or on Books A Million.